Happy Birthday Caroline
Shelley says...

Today my baby turns nine. It makes me sad for two reasons. 1. She is getting older and more self-sufficient. 2. My excuse of "I need to lose this baby weight..." is getting REALLY lame.

I am so proud of her. She is a sweet, smart, happy and content kid. She knows her limits, has a small circle of friends, and really loves just being home. I could really learn a few things from her.

Caroline has recently gotten "back into" American Girl Doll stuff. She is funny, she sorta goes from one thing to another...a few months ago, it was Calico Critters, and we were all in. But things change quickly around here. And when we like something, we love something.

We started reading the Addy books this summer from the American Girl Civil War series. Caroline began talking about wanting to go to one of the stores. So my neighbor and I planned a little trip over Labor Day weekend to Atlanta with the girls to visit the store there and to celebrate her birthday early.

Caroline was in heaven. That's all I can say. If a perfect Mother/Daughter trip exists, this is it.

Here they are about to go into the store with their dolls.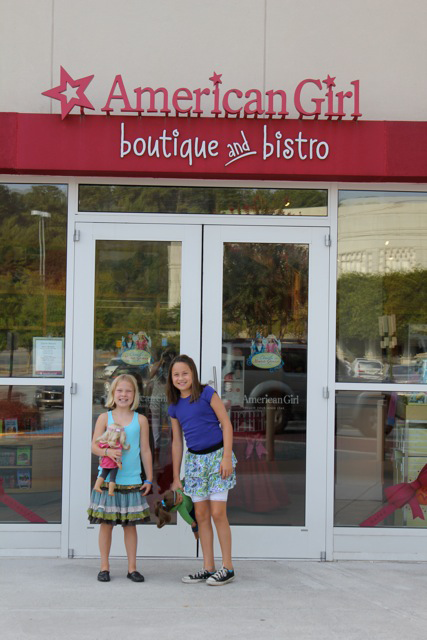 They could hardly contain their excitement. I was so excited too. There's something about all that doll stuff that takes me back.

They got their dolls hair done, ears pierced, (Caroline isn't allowed to have hers done until she's 13, so that was little hard to explain why I was ok with her getting her doll's done) and then we had little birthday lunch in the bistro. This was a huge cake for four of us. I ended up tossing half of it...ugh.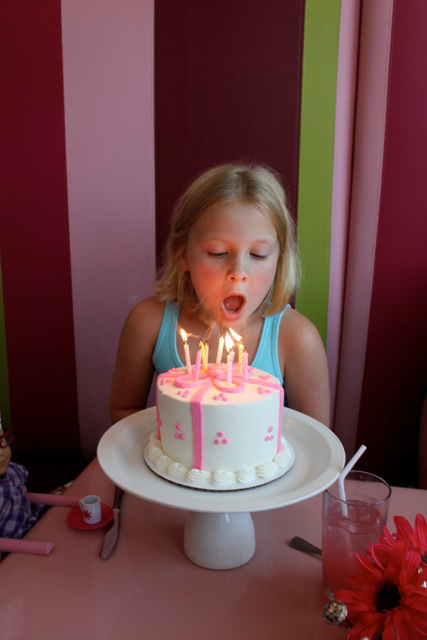 Caroline really wanted to get her doll the "flute" set. She has been saying for months that she wants to play the flute. I told her when we could practice piano without complaining for a whole week, we would talk about it. Don't think we'll be taking up the flute anytime soon. Sarah actually plays the violin, so here are their dolls with their instruments.

I just had to show you this because it's creepy on some levels to me. hahahahahaha...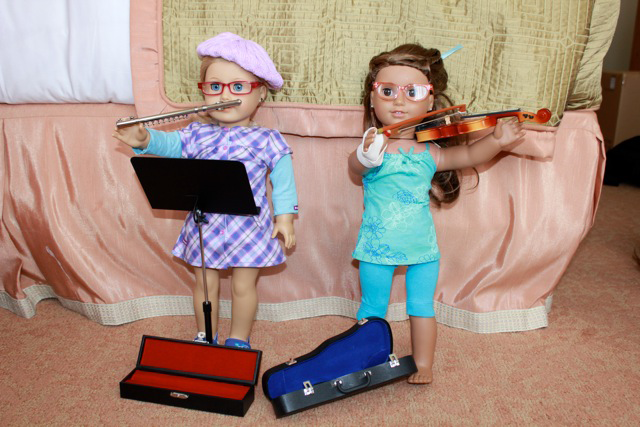 "Hi, we are Nicole and Josefina. At night we come into your room and kill you with our instruments..."

I dunno. Anyone else get that vibe??

On a serious note, we made great memories last weekend. I am so grateful for the downtime with Caroline.

Here she is getting ready to go home....did I mention that they have matching outfits...I mean seriously...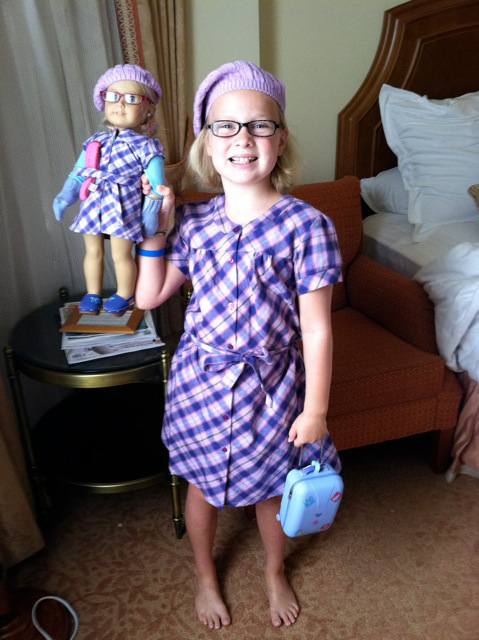 Those are Kirsten's glasses but she couldn't resist looking exactly like Nicole.

Who knows, maybe one day when I'm old and gray, Caroline will read this post...

if so...

HAPPY 9TH BIRTHDAY KOOKS...YOU ARE THE JOY OF MY LIFE. I LOVE YOU VERY MUCH!!!!!

Love, Mom